OVERVIEW
Utah Opera opens its 2020-21 season with a double bill of one-act operas that explore the timely themes of isolation and need for human connection.
Opera Highlights:
Acclaimed dramatic soprano and Utah native Wendy Bryn Harmer, who has sung in multiple Metropolitan Opera cycles of Wagner's "The Ring," makes her Utah Opera debut performing the role of Elle at select performances.
Director Kristine McIntyre's English update of Jean Cocteau's original libretto for The Human Voice brings the story into the present and shows that while our communication devices may have changed, the complication of relationships has not.
Gentleman's Island, inspired by the poem "Etiquette" from William S. Gilbert of Gilbert & Sullivan fame, comes to life with two Utah Opera regulars, tenor Brian Stucki and baritone Christopher Clayton.
A second cast, featured at select performances, features Utah Opera Resident Artists Edith Grossman as Elle, Daniel O'Hearn as Mr. Gray, and Brandon Bell as Mr. Somers.
Plot Summary:
Called "an intimate view of a woman's emotional spiral" (Meghan Klinkenborg, Schmopera.com), Francis Poulenc's The Human Voice (La voix humaine) tells the story of Elle's final phone call with her former lover, who is now in love with another. As she attempts to reconcile their relationship, the phones and other mobile devices that are supposed to help them communicate, keep them disconnected and apart instead.
Joseph Horovitz' comedy Gentleman's Island is the tale of two English gentlemen, a tea taster and indigo importer, who are stranded on the same deserted island, but ought not to speak to each other as they are gentlemen who have not been properly introduced. In time, they agree that communication and cooperation is permissible, but that relationship is complicated when a mutual friend from their past appears on the island in a very unbecoming way.
Sung in English with English supertitles.
Runtime: Approximately 90 minutes with a brief pause between operas.
Single-concert tickets for this performance are on sale September 10, 2020.
---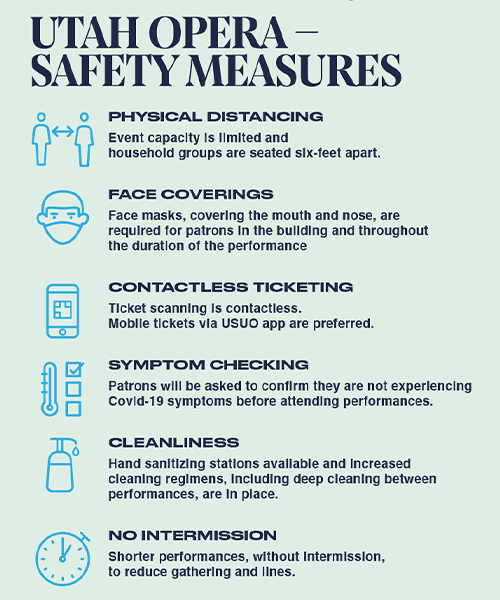 Learn more about our health and safety plan here.
ARTISTS
Francis Poulenc, composer (Human Voice)
Jean Cocteau, librettist (Human Voice)
Joseph Horovitz, composer (Gentleman's Island)
Gordon Snell, librettist (Gentleman's Island)
Kristine McIntyre, director
James Lowe, arranger (Human Voice)
 
Cast 1
Wendy Bryn Harmer, Elle (Human Voice)
Brian Stucki, Mr Gray, a tea taster (Gentleman's Island)
Christopher Clayton, Mr Somers, an indigo importer (Gentleman's Island)
Cast 2
Edith Grossman, Elle (Human Voice)
Daniel O'Hearn, Mr Gray, a tea taster (Gentleman's Island)
Brandon Bell, Mr Somers, an indigo importer (Gentleman's Island)
Utah Symphony
SPONSORS
Season Sponsor

ADDITIONAL INFORMATION
GENERAL AGE GUIDELINE: Individuals ages five and older are welcome at this performance. Parents should ensure their children are able to sit quietly through the performance without disturbing others around them. No babes in arms will be admitted.
LATE SEATING POLICY: Late seating will be at an appropriate break in the concert, to be determined at a later date. More information on our late and re-entry policies is found here.
Artists and programs are subject to change. No refunds. View Terms of Sale here.